Malta Dyslexia Association (MDA)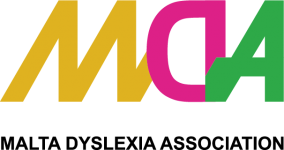 The Malta Dyslexia Association (MDA) is a voluntary association which was founded in 1986 by professionals and parents who were concerned about their children who, in spite of their intelligence and overall ability, were struggling to develop literacy skills and were also experiencing low self-esteem, low academic self-confidence, anti-social behavior, and bullying. For this reason, the Dyslexia Association has been proactive in creating awareness of this profile. Over the years, MDA has invited a number of local, foreign speakers and experts to further develop awareness in the field. Furthermore, MDA has organized courses for parents to enable them to support children and other family members more effectively. The association holds monthly talks to support parents and students with further information about the latest assistive technology and teaching methods to allievate the students' daily struggles. Our organization also offers continuous support on social media where anyone is welcome to ask any query he/she has come across.
MDA is independent, non-profit and non-political. MDA's main objectives are to advance the education of persons with a profile of SpLD/LD, to procure and provide information to the public, to advance professional practices and to promote and encourage research into Dyslexia and other profiles of SpLD/LD and disseminate the results thereof; to assist educators and other professionals who wish to specialize in the field of Dyslexia and other profiles of SpLD/LD; to support publishing of research papers in SpLD/LD; to co-operate with educational bodies to advance members' standings; to co-operate with related organizations locally and internationally, according to established law.
Learn more about MDA at https://www.facebook.com/MaltaDyslexiaAssociation/